Bike trails "Bajkom k tajchom"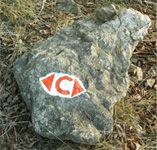 Bike trails Bajkom k tajchom (To Tajchs by Bikes) are set for mountain bikers.
There are signs on the terrain which are cycle-symbols which are widely used also by the Slovak Cycle-club (Unique system of marking in Slovakia – STN 018028).
Bike trails in the area are signed by painted symbol "C"while four other colors are also used – red, blue, green and yellow.
At important places and crossroads on the trails the biker movement is directed by orientation boards. Such places are called
orientation points
. Every orientation point is numbered and majority of them also named.
The orientation points which are usually set and suitable for entering the system are called
starting points
. The starting points neighbour with a car park and are equipped with an information board.
Except colour signed trails the system includes also so-called
theme trails
– when riding them a biker gets positioned by a list of orientation points the trail crosses. The list of orientation points which a theme trail crosses are introduced in the trail description.